Martin Bienstock
Marty Bienstock is a civil litigator with a passion for justice. A graduate of Yale Law School and Brooklyn College, Marty combines strategic vision, street-smart litigation skills and cost-sensitivity to efficiently achieve success for his clients.
Contact Us
Professional Experience
For more than 25 years, Marty has been developing the unique strategic vision, tactical skills and substantive know-how that enable him to fight effectively for his clients. Today, as insurance companies and other institutions grow increasingly successful in refusing to fulfill their obligations, Marty has founded a law firm to fight back and get his clients what they deserve.
Marty's passion for justice took him early-on in his career to the New York Office of the Attorney General. As an Assistant Attorney General under Eliot Spitzer, the then "Sheriff of Wall Street," Marty handled some of the largest cases in New York State history, many with billions of dollars at stake and earned an award for outstanding service. Marty also served as a Senior Assistant Counsel to the Governor and Special Counsel to the Department of Health, where he earned another award for outstanding service.
After leaving government service, Marty served as a partner to two leading national litigation firms, each of which specialized in insurance coverage litigation. Marty has helped his clients recover hundreds of millions of dollars in insurance proceeds in cases involving professional liability, D&O, E&O and property damage claims. Marty also has helped clients recover proceeds in large class-action and mass-action claims.
Marty is a member of the prestigious New York State Bar Commission on the State Constitution, and the New York and Maryland State Committees on Health Care Law. He writes and lectures frequently. He also has his hands full at home, co-parenting his four children who range in age from five to fourteen.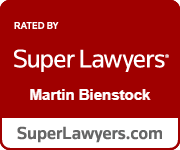 Weisbrod, Matteis & Copley PLLC., Partner, June 2013 – May 2019. Boutique law firm named Hottest Litigation Boutique by the National Law Journal.

Wilson Elser, et al., Partner, September 2009 – June 2013. International law firm specializing in insurance coverage.

New York State Department of Health, Special Counsel, January 2007- September 2009.

Received Commissioner's Recognition Award for Exceptional Leadership, Management and Collaboration.

Adjunct Professor of Law, Albany Law School Fall 2008. Taught course on Law and Regulatory Policy.

Senior Assistant Counsel to Governor, June 2001 – December 2006. Provided advice on legal issues, including education, health-care and insurance.

Assistant Attorney General, State of New York, June 1996 – June 2001. Awarded Louis J. Lefkowitz Award for outstanding service.

Proskauer Rose, LLP., New York, N.Y., Associate, September 1990 – March 1995. Complex litigation experience
Yale Law School, J.D., 1986-89. Receive Honors in multiple courses.

Brooklyn College, B.S., Computer and Information Science 1982-86. Norman E. Morris Award for outstanding pre-law student.
Representative Lectures and Publications
Article, Law360, Coming Soon: The 3-D (and 4-D) Legal Brief, October 6, 2016.

Article, Law360, Examining Arguments Made and Not Made in Hobby Lobby, June 30, 2014.

Book Chapter, Antitrust & Healthcare, A Comprehensive Guide, American Health Lawyer's Association, 1st ed., 2013.

Webinar, Accountable Care Organizations and Other Reimbursement Reforms: The Impact on Physician Practices, American College of Physicians, New York, June 2, 2011.

Chapter, Integrate or Perish: Reconsidering Clinical Integration In The Wake Of Health Care Reform, in Navigating Health Care Reform, ALI-ABA Journal, May 2011.

Special Edition Editor, Legal Issues in the Wake of the Berger Commission, New York State Bar Association Health Law Journal, Fall 2008.

Article, Law and Policy of Health Care Competition for the 21st Century, New York State Bar Association Health Law Journal, Fall 2008.
Bar and Committee Memberships
State Bars
New York Bar Association
Maryland Bar Association
D.C. Bar Association.
Federal Bars
Southern District of New York
Eastern District of New York
District of Columbia
District of Maryland
Southern District of Texas
Committees
NYS Bar Commission on the State Constitution.
ABA Section on Torts and Insurance Law.
NYS Bar Section on Health Law.
We Are Eager to Hear from You.
Contact us at Bienstock PLLC. We promise to give you the attention you deserve.